COVID-19 Relief and Response
The country is, at present, under a 43 day national "lockdown", with a near-complete restriction upon the movement of people.
Tribals who depend on daily wages, being able to survive this lockdown is contingent on two factors – one, getting a daily wage of at least Rs 100/- per day and two, being able to buy necessary food supplies for daily subsistence.
In the present scenario neither is possible.
Food Ration Distribution: The Community
PRASAD Chikitsa has set up a relief package for the neediest tribal families. While the Government is providing rice and wheat, in some cases, other essentials are beyond the reach of tribal families in remote hamlets of the Tansa Valley.
The safest solution to avoid spread of infections is to provide basic rations to the families and make it sustainable for them. PRASAD Chikitsa, through its extensive network of SHG women, was able to identify the needs of the families below or close to poverty line. Based on the most common requests, a list of groceries/essentials was prepared for a family of 6 members to last a fortnight. Each ration bag includes lentils, onions, potatoes, cooking oil, wheat flour, salt, turmeric and local spices. Also included is bathing and cleaning soap.
This food security and nutrition is reassuring during this time of uncertainty and lack of any resources. Our aim is to provide these essential supplies to 1000 families ideally for 3 months.
Medical Services continue: Anukampa Health Center
The Anukampa Health Clinic is open for screenings 6 days a week and is operating at 50% capacity. Our doctors and nurses are working with the government to report any symptoms of Covid-19 in patients. Some of our staff members travel over an hour each way to reach the clinic.
The hospital is sterilized every day and our team is taking all necessary precautions to protect infection from spreading. PRASAD Chikitsa has a no refusal policy and is dedicated to serving the community at this time and always.
Mask Production: Self Help Groups
PRASAD Chikitsa is distributing masks as protective gear to prevent spread of disease.
Women in Self Help Groups are helping produce masks for the community from their homes. Each woman makes an average of 10 rupees per mask. The fabric has been provided by PRASAD Chikitsa and production will be scaled up as soon as fabric procurement becomes possible.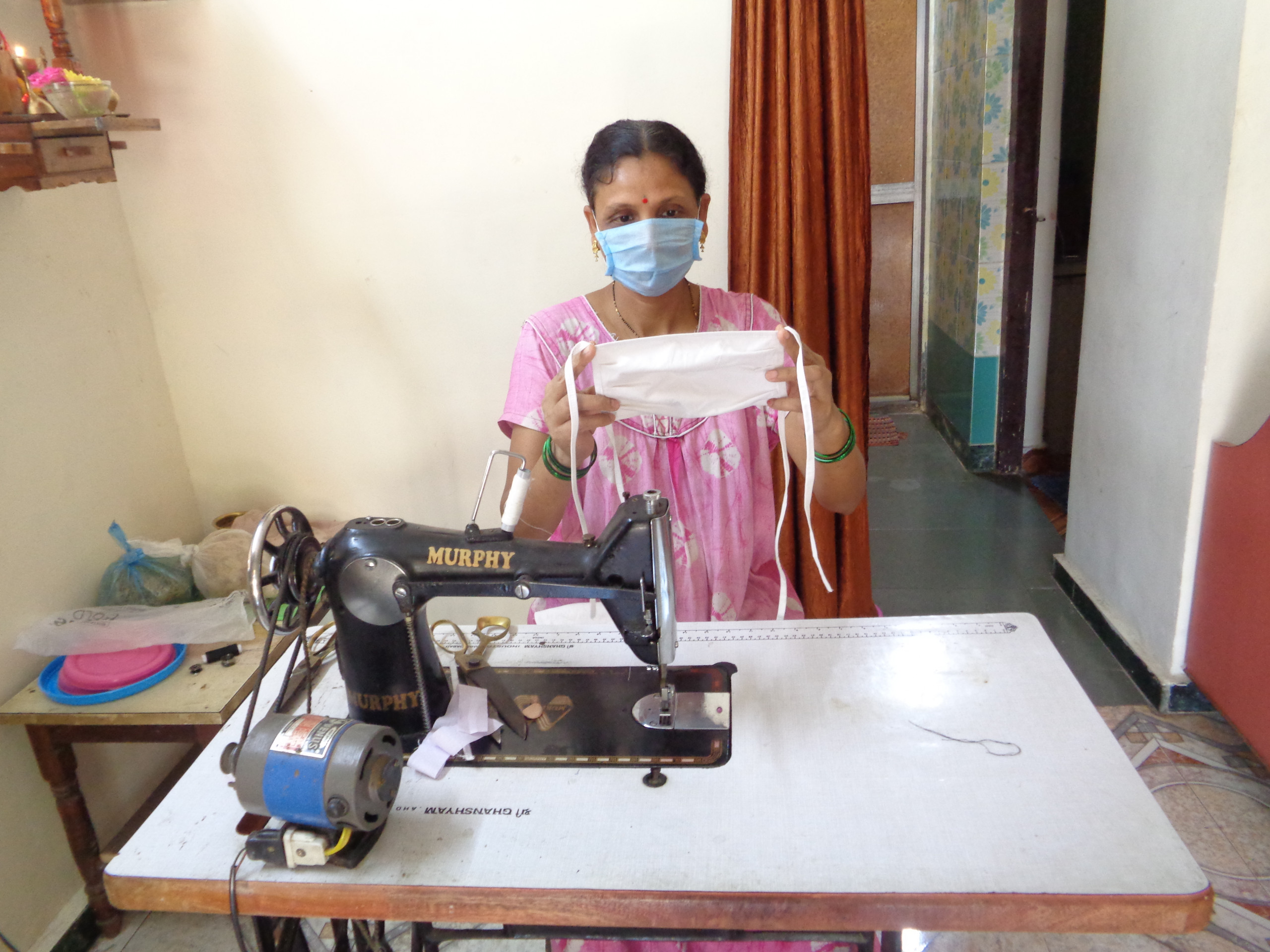 Mask Distribution: The Community
Prevention is the best cure!
PRASAD is distributing masks in the most remote hamlets of the Tansa Valley. Along with the masks, the villagers receive information about how to wash and reuse the masks. They are also informed about symptoms of Covid-19 and given information about Anukampa Health Center in case they need to be screened.
Masks have been distributed to all patients that visit Anukampa Health Center, the homeless in the villages in Ganeshpuri and families in remote villages.
Medical equipment donation
Medical equipment, which was in excess with PC, was donated in response to the appeal by the Deputy CEO of Palghar District.
The equipment that was picked up by the Health Department of Vasai – Virar Municipal Corporation. The approximate value of the equipment is Rs. 90,000.
The equipment included:
– 1 stretcher
– 3 BP apparatuses
– 8 hospital beds
– 180 N95 masks
– 500 Latex Single Use Gloves
– 250 Surgical/Procedure Masks
We are showered with gratitude: a gesture of care goes a long way!
One beneficiary said, "nobody has cared for us the way you have."